Monitoring the quality of raw materials helps to optimize both their use and the processes. This will help make the food industry, including manufacturing, more efficient and sustainable.
A technological optimist with great respect for nature
"DigiFoods' research lies at the intersections between food technology, process control, sensor development, robotics and data analytics. This offers good opportunities for innovation on many levels," says center director Jens Petter Wold.
He is a technological optimist with a great respect for nature and has worked for more than twenty years in the development of rapid spectroscopic measurement methods for the food industry. Jens Petter Wold has seen firsthand how the potential for precise and detailed measurements using non-destructive sensors has grown alongside digital advances. For example, ten years ago you could measure the fat content of raw materials. Today you can analyze their fatty acid composition.
One of the main motivations of the Principal Investigator is the desire to ensure that raw materials are used to the maximum and that as little as possible is wasted.
"A lot of energy is spent on producing and distributing food. We have to make sure everything is eaten. Fighting against food waste is very important", he underlines.
He adds that while technology can do a lot, the work should always be based on an understanding of nature.
"Technology can make us more sustainable, and our goal shouldn't just be to become more efficient. We are efficient enough. The technology we are developing at DigiFoods will allow us to use these resources in a sustainable way.
Useful spectroscopic applications
In 2021, DigiFoods researchers have developed a number of applications based on spectroscopy (light spectrum measurements) that can be useful in the food industry.
PhD student Tiril Aurora Lindtvedt and her research colleagues have established that Raman spectroscopy (a method of measuring various properties at the molecular level) and near-infrared (NIR) hyperspectral imaging technology are suitable for measuring food quality at great speed. For example, this could involve measuring omega-3 fatty acids EPA and DHA in whole salmon fillets, right on the processing line. Aquaculture shows great interest in this application.

Postdoctoral researcher Samuel Ortega Sarmiento, along with his colleagues, demonstrated that hyperspectral imaging can also be used to separate poor quality halibut, known as "mushy halibut", from normal Greenland halibut. The pasty fish with a gelatinous consistency is a challenge for the industry that processes this species of fish. Being able to identify pasty halibut before processing would be a big plus. This could be an important application for the seafood industry.
PhD student Bijay Kafle and his colleagues are developing new applications based on Fourier Transform Infrared (FTIR) spectroscopy. One of the applications they are developing aims to be able to measure the quality of protein powder produced from residual raw materials. The goal is to make a relatively inexpensive and portable FTIR instrument that can be used directly on the process line in manufacturing, both to monitor the hydrolysis process and to document product quality.
A calibrated NIR instrument to monitor dry matter in raw potato slices was installed on an industrial processing line. The researchers are about to start investigating whether the measurements made can be used to control and improve the process.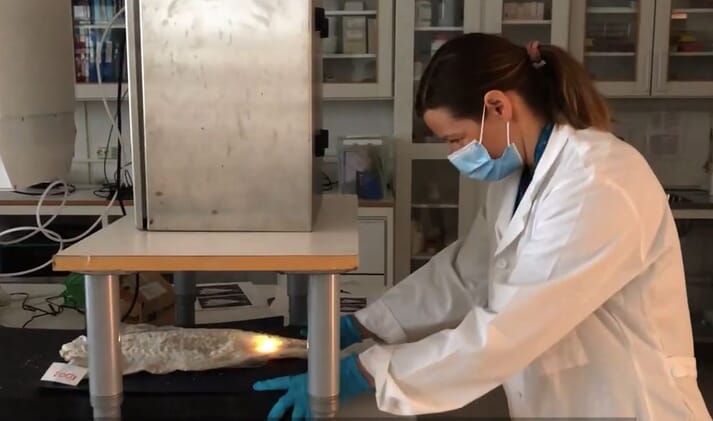 Collection of large volumes of data
DigiFoods experts are already working hard to collect, process and analyze data from a number of companies in the food industry. The long-term goal is to develop data-driven solutions for process, product and value chain optimization.
In the years to come, it will be important for DigiFoods to collect large-scale data from smart sensors and other processes in the food value chain.
Learn more about their research areas here.